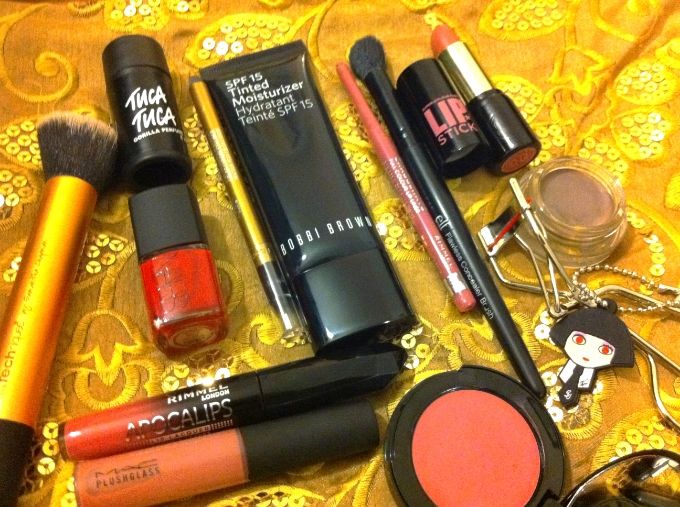 Another "favourites" post - these are the main beauty products I've been using for the first month of 2013. Focusing a lot on lip products this month, I have just been obsessed with lipsticks and lip glosses recently. I think it is because we are now past the very cold parts of the winter and my lips are starting to get back to normal after that awful dry, flakey phase that always happens to me around the cold weather. Thankfully my skin is improving and, slowly but surely, it is getting back to its pre-acne-hell heyday, so that has meant I can start wearing my all time favourite tinted moisturiser again! Here is the list;
1. Real Techniques Buffing Brush - I have been raving about this brilliant brush ever since I first got it. This brush is so good at blending out my tinted moisturiser/foundation that it leaves a really flawless finish. It is much much softer than my other Real Techniques Stippling Brush - I actually think that caused a bit of irritation as it was maybe too harsh - so having this has been a God send.
2. Tuca Tuca Gorilla Solid Perfume - This has been my favourite scent of the month. I am constantly applying this to my wrists all throughout the day as I like getting that first 'hit' of the smell. This is a really feminine, musky scent with main notes of violet and vanilla. It is very sensual and defiantly one to be wearing for a late date night - if you know what I mean!
3. Nars 'Andy Warhol' Nail Polish in Soup Can - As the name of this would suggest, this shade is based on the vibrant, bright colours of the famous canvas prints that Andy Warhol created in the Sixties. This is a bright, confident red that has really perked up my day when wearing it. The Nars polishes are fabulous for their lasting power and the chipping is kept to a minimum.
4. Rimmel Apocalips in Celestial - I'm still loving this liquid lipstick. I also got the shade Stellar today and will do a separate post on it. Celestial is still my favourite colour in the collection, such a beautiful dusky pink that is very mature and chic.
5. Mac Plushglass in Ample Pink - On days where I have been wearing a more dramatic eye makeup look, this lipgloss is what I have been reaching for. It is a great nude pink and still has great effect when worn alone on the lips.
6. L'Oreal Paris 'HIP' Chrome Eyeliner in 920 Gold Charge - I have shared with you all in my recent posts the beauty that is these eyeliners. The creamiest formula I have found in a pencil liner, this just glides on the lids like butter and leaves a gorgeous trail of highly-pigemted gold. I find this has been perfect to wear in my waterline also, as it brightens up the whole eye, without looking too OTT.
7. Bobbi Brown Tinted Moisturiser Spf15 in Alabaster - This is still the best tinted moisturiser I've ever tried. I am now on my second bottle of this stuff and I have a feeling there will be many more to come in the future. As finding light shades of foundation can be a problem for me, I have felt so fortunate to discover this. This is very pale and suits my skin perfectly, I find the formulation of this to be much better than the Laura Mercier version as it doesn't end up flakey or set in around the dry areas of my face. It does leave a really great glow to my skin - maybe too much for some people - however I have gotten so many compliemtns on how "healthy" I look when I've used this. (Makes a nice change from always being called "anaemic-looking", like in the past!)
8. Bobbi Brown Pot Rouge for Cheek and Lips in Pale Pink - On the days where I really don't want to wear any makeup, yet want to look like a normal human, this is what I reach for. After slicking on a bit of brown mascara, I apply this to the apples of my cheeks and also pat some on the lips. The outcome is very impressive as it really looks natural - as though I have nothing on. The formulation of this is one of the best I've come across for a cream blusher; it is very hard in the pan but it is so very pigmented, so you really only need a little bit on your fingers to work with. I find that if you use a brush with this product, you will actually be wasting it, so always use your fingers to blend in this one.
9. Rimmel Exaggerate Full Colour Lip Liner in East End Snob - My (now) fellow beauty blogger Hannah Georgina24 used to recommend this in her YouTube videos. When I finally purchased it, I was so so happy with the shade, its lasting power and especially the price (£2.99). This is the only lip liner I now use for my everyday makeup looks.
10. Elf Flawless Concealer Brush - Not a day goes by where I don't use this brush. I actually think this is one of my favourite ever makeup brushes. This thing was made to work with my Collection2000 Lasting Performance Concealer, it just blends so well and it has only been since I've used this brush, that my concealer doesn't flake or budge all day long! I think this is such an underrated product and it only cost about £3.
11. Soap&Glory Super Colour Fabu-Lip Stick in The Missing Pink - I think this has been the lipstick I've worn the most for the past month or so. It is really creamy, long lasting and has good pigmentation. The shade is only the tiniest bit darker than my actual lip colour, so wearing this really emphasises the mouth. This will always be worn with my Rimmel East End Snob lip liner - they are a perfect match!
12. Shu Uemura 'Karl Lagerfed' Eyelash Curlers - Where have I been without these all my life? I never knew I could have such great, wide-awake looking eyes even without mascara! Upon the recommendation of Lisa Eldridge, not a day goes by where I don't now curl my lashes. It is by far the most important beauty trick I've ever known and with curlers as great as these, I can continue on looking all Bambi-eyed.
13. Maybelline Colour Tattoo in Permanent Taupe - My new lover! I don't have much else to say about the matte, taupe and glorious perfection that is this cream eyeshadow. Just, swoon!