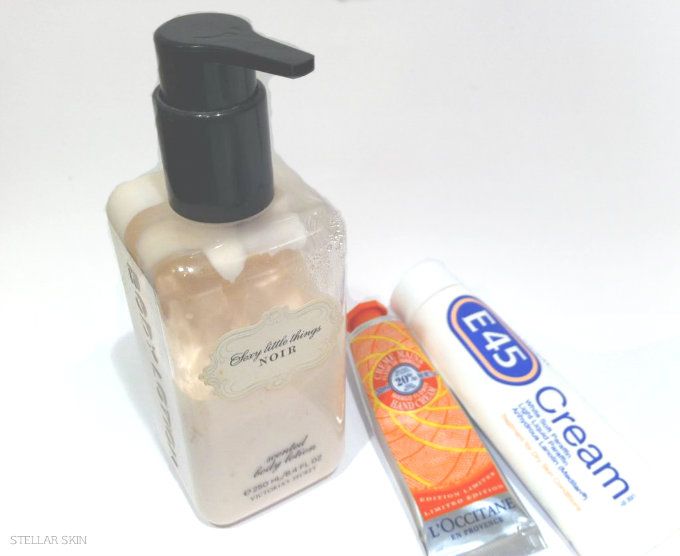 Coming into winter means that our skin is going to take a bashing. Cold-wind burn is a very real problem for the skin and I have been noticing dry patches on my arms and hands. I have three great lotions to give my body some needed TLC during these colder months.
1. Victoria's Secret 'Sexy Little Things' Noir Body Lotion - I first purchased this a few years ago whilst waiting for my delayed flight back home to UK for christmas. I had never tried any Victoria's Secret products but was amazed at how lovely this was. I got it duty-free for around £10 and have been repurchasing it ever since. It sits proudly besides my bed and I use it most nights to moisturise my hands and lower arms. It smells heavenly. There is no other way to describe it. Try it and you will not be disappointed.
2. L'Occitane Shea Butter Mango Flower Hand Cream - I carry this in my handbag for on-the-go hand treatments. It is very thick and concentrated meaning it will need to be rubbed in quite a bit but it feels divine on your skin. It smells like a sweet mango but isn't too overpowering and costs £8.00. It can become quite addictive to use and once you purchase this, you will probably begin to reapply it several times a day for no reason. This is limited edition so be quick and get it before it goes!
3. E45 Cream - Found at every chemist and most supermarkets, this cream is great for treating more severe dry skin conditions. It is medicated meaning you can most defiantly trust this product as it is doctor recommended. Last year I got a large tub on prescription to treat my exceptionally dry skin, so, if my G.P says it works then I'm gonna believe them. You should always have a small tube of this in your home medicine cabinet.