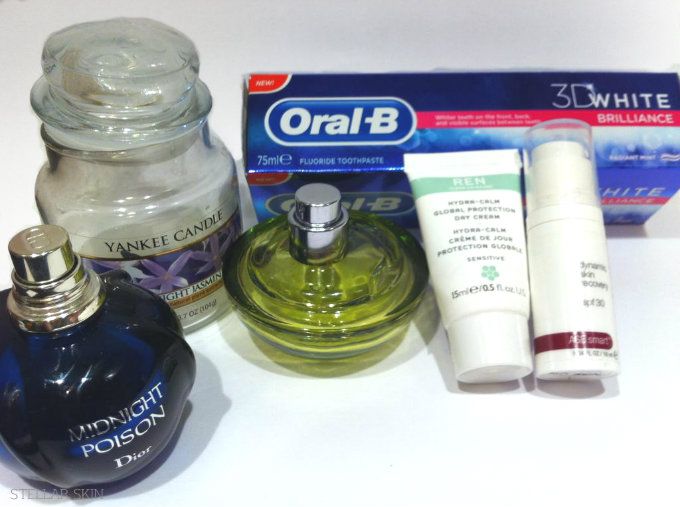 This is my first "Empties" post which I'm excited about. It makes me feel like a bonafide beauty blogger! I decided to do a mixture of different product genres from perfume to toothpaste for two reasons; one, I like a bit if variety every now and then and two, I'm very stingy with my makeup and make it last as painfully long as possible so I haven't emptied out any yet! These are my six latest empties;
1. Dior Midnight Poison Eau de Toilette - My favourite ever fragrance. This is just the most stunning perfume ever made, in my opinion. This was the one beauty item that I would create a fund for and make sure I always had enough saved up for when it ran out. According to the Perfume creator for Dior, Francois Demachy, this was, "composed with a captivating yet elusive seductress in mind". That description definitely matches the real effect and, to be blunt, men LOVE this and so do all my girlfriends. It leaves a nice trail of scent when you walk which I always admire in people, that feeling of "I wonder which perfume they're wearing" when they pass you. I even have to admit when I get a new bottle I tend to spray it on all my clothes and even the pillow on my bed gets a spritz! Patchouli (an aromatic oil obtained from a Southeast Asian shrub), mild citrus, and rose are the main ingredients and it also has woody and earthy undertones. I heard the most devastating news that Dior are now only going to sell this in 100ml bottle (around £90) and do away with the 30/50ml ones! I feel that is wrong and they should definitely reconsider this for their customers.
2. DKNY Be Delicious Eau de Toilette - This is a great alternative if the Dior one is too strong for you. This is light and has a lovely apple scent yet isn't too overpowering. I first purchased this when I was a teenager and needed something that was appropriate to wear to my (ridiculously strict) high school. It has fruity notes and is mildly floral with apple, violet leaf, grapefruit and magnolia being the top notes and tuberose, lily and rose being the middle. There is a tiny amount of amber and musk as bottom notes giving it a good kick as well. The more I've been getting into my perfumes the more I came to understand the lingo! I would recommend this for someone who wants a fun, fresh, light fragrance to brighten up their day.
3. Yankee Candle in Midnight Jasmine - It may surprise you to know that it has only been recently that I have begun to shop at Yankee Candle. I feel that I'm now at a mature enough age to get rid of my cheap, vanilla scented candles and move up closer towards to luxury genre. Problem is, I'm so fussy with scents that I find it hard to find one worth having and I need to go beyond my typical vanilla smell. (I just love vanilla). I spent one day smelling every single fragrance in the Yankee store and only seemed to be drawn to about six of them. Hopefully, I will evolve myself somehow and see what everyone sees in these candles but for now I'm very happy with this one. Midnight Jasmine has ingredients such as water jasmine, sweet honeysuckle, neroli and mandarin blossom all combining to make this lovely, deep scent which lingers around your home. It's quite sexy but not too overly feminine so, if you live with a guy and he doesn't want an overly girly scented house, then this would be the one to choose. I actually look forward to lighting this when I get home at the end of the day which is new for me. I've just run our of this and will absolutely repurchase it. A little trick I use when the wick is far down the jar is to get a lighter and light a piece of dry spaghetti pasta and use that! Works like a treat.
4. Ren Hydra-Calm Global Protection Day Cream (for sensitive skin) - This is a small travel-sized tube I got for free and, having never tried any Ren products, decided to give it a go. I'm currently on the lookout for a new moisturiser and am very particular about what I choose to put on my face. Too many moisturisers on the market are filled with horrible ingredients which are bad for the skin so I always try to check my creams don't contain too much crap. I was very impressed with this cream, it is moisturising but not too heavy so it doesn't clog my pores. It leaves a nice, soft finish and I only need to apply it once a day as I don't feel it's suitable for a night cream. I will probably purchase this as my new moisturiser as I have yet to get another which doesn't break me out. I just hope it remains suitable when the colder months come in and my skin takes a bashing from ice-cold winds!
5. Dermalogica Dynamic Skin Recovery SPF 30 - This has been my moisturiser for the past two years. I fell in love with this as it is the most rich cream I can use that works with my skin and not against it and I can apply it both day and night. The SPF30 was the main attraction for me, as, leaving my teen years, I noticed I started to sunburn easily and thus wanted to protect my face as much as possible (without clogging up my pores). This doesn't come cheap, I payed around £35.00 for an average sized pot but it comes with its own pump meaning it gives you the correct amount needed every time, so it lasted me about 3/4 months. I even bought myself travel-sized ones from ebay (pictured above*) so I would always have one in my bag for touch-ups. I really rate Dermalogica as a brand; I feel they are the leading in skincare and I have been a huge fan since I was a teenager who got her very first salon facial - in which they used Dermalogica and so, introduced me to it.
6. Oral B 3D White Brilliance Toothpaste - A bit random but a vital part of any persons beauty regime. Finding a good toothpaste is something which I have been doing for as long as I can remember and I have gone through too many to count. As and ex-smoker (for 9 months!!!) I now need to try and undo the damage I caused by smoking. I think this toothpaste is fabulous at brightening my teeth. Use it TWICE a day with an electric toothbrush (I use the Oral B Pulsar, £6.50) and you will notice a difference. This isn't too overly minty, which can sometimes burn your mouth, and doesn't leave a horrible aftertaste, which can be annoying when you try to drink/eat directly afterwards. I would highly recommend this.
There you have it, my first empties post. I look forward to doing more.
*I apologise for the not-so-great quality of my pictures but my proper camera is broken! I will hopefully rectify this soon! x