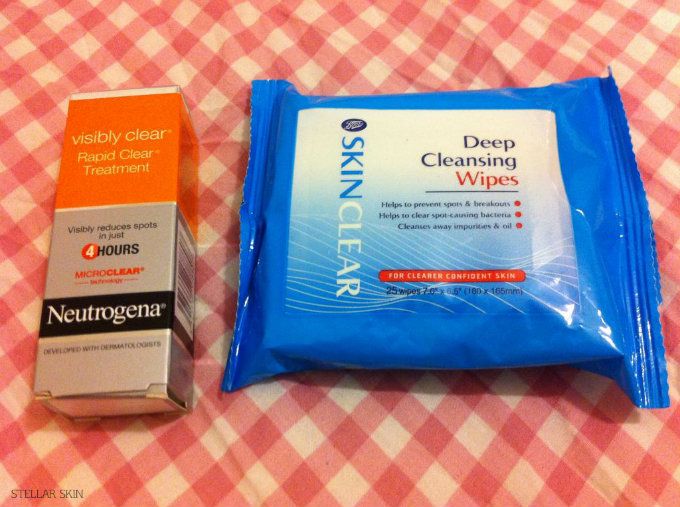 It has been well documented here that over the last few months I've had probably one of the worst acne breakouts in my life! I'm still not 100% sure why it happened or how (so far I think a mixture of stress from stopping smoking and some new face products which disagreed with my skin are to blame) but thankfully I can say that it looks like my skin is starting to get back to normal! Yay!
I have been using products that contain
Salicylic Acid
- which is a wonder ingredient for dissolving all the dead skin cells/dirt/grime/excess oil from my skin - acting as an exfoliator. This combined with a daily double cleanse at night and using a nice oil-free moisturiser has seemed to have done the trick for my blemishes. To be honest, you don't need to waste money on expensive skin creams or treatments. I did and was really disappointed. Actually, almost all of my skincare routine products are drugstore/inexpensive. I have also stopped using my muslin cloth for now as I feel it was way too harsh for my skin - I just use the corner area of my towel or flannel instead. I am wondering if some of my makeup has been irritating my skin, or that I could be allergic to the animal hair bristles of some of the brushes I use - so now I'm trying alternatives. I am allergic to dog fur, so maybe it could be that I need to try vegan brushes from now on.
One of my main courses of action is to try and go at least 3 days of the week with little to no makeup, which is very hard if you're a beauty blogger like me and need to be constantly trying to use new products! I feel that this is essential for my skin to get time to heal from the horror it has been going through. It is worth it in the end.
There are dietary methods which I have been doing, such as drinking more water and eating more fruit and vegetables. Even if that doesn't help my skin it certainly isn't bad for your health, so I intend to keep that up for the long haul.
Overall, the best advice I can give to anyone who is having such problems is to be patient - first and foremost - as putting yourself under unnecessary pressure to heal could make the problem worse. Second is to try to simplify your skin routine as much as possible by using gentle yet effective products and, for me, it was just through trial and error that I found my skin matches (also always read the labels and learn about ingredients online so you will know what to look out for). Third is to try and go a couple of days makeup free, if you can. If you can't for whatever reasons then try to take your makeup off as early as you can in the evening time, don't just wait till bedtime. Fourth is the main one - GO EASY ON YOUR SKIN! Don't start scrubbing harshly at your skin out of frustration. I've done that and it is the worst thing you can do as your skin will freak out that your stripping away more oils than necessary and will then produce EVEN MORE to try and restore balance. I learnt that one the hard way!
Overall, all I can say is good luck to anyone who is trying to heal their skin problems. I know how horrible it can be and it can make you feel less confident and unattractive but there is light at the end of the tunnel! Just (try) to relax and make out a "Skin SOS" plan of your own and begin it asap.*
These (pictured above) are just a couple of products I've used and have found to be really effective in a SAFE and gentle way;
1. Neutrogena 'Visibly Clear' Rapid Clear Treatment
- First and foremost I need to say that I do get annoyed when products like these have such ridiculous claims on the cover. Just try and ignore them as it's just a stupid piece of marketing. I didn't see much difference in "4 hours" as this claims and to be honest, I doubt anyone will. HOWEVER, this is a good spot treatment gel. It did help my skin a lot and managed to dry out my spots without drying out the surrounding skin area (which can be a problem with treatments like these). Costing around £4.00, this tube is small but you only need a tiny bit to put on top of each blemish at the end of the day (after my double cleanse and moisturiser had time to sink in). It only took about 3 or 4 days to get a great finish so I recommend this.
2. Boots 'Skin Clear' Deep Cleansing Wipes
- This might be a controversial one. As so many of your know, it is very much discouraged to use face wipes at all! It is true that they don't remove all your makeup and can therefore leave your skin still dirty, however, sometimes these can be useful. I have been using these for the days I stay off the makeup! I will use no more than two of the wipes on those chosen days and I just use them to freshen up my face a bit more than usual. These do contain a small amount of some of my key blemish-fighting ingredients and therefore, I can get a bit more goodness on my skin than on days where I can't because of my makeup being in the way. For example, I tend to hike a couple of times a week, so after one of those I like to use one of these to freshen my face enough until the evening when I do my usual routine. I have tried the
Cucumber Wipes
from
Boots
as well but I found them to dry out my skin and be pretty useless to be honest. The only redeeming feature they had was that lovely cucumber scent! However, if you think about it, you absolutely DO NOT want any scents or fragrances in you skincare routine as they contain alcohol! Big no no! These
SkinClear
wipes are fine for me and cost about £1.50 a pack, well worth it.
*If any of you need any advice about how to treat your acne, or want to know more about what I used and my methods, then please feel free to get in touch. Either comment here/tweet me or even email me if you are a bit shy about it. I would be happy to help! xoxo