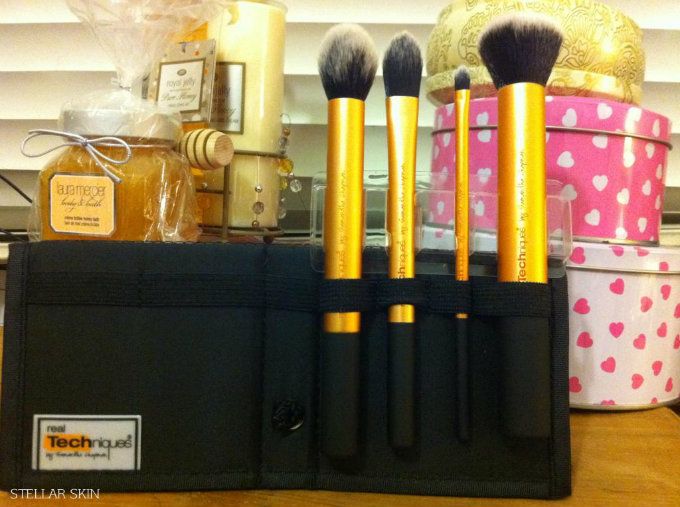 Since I was so impressed with the Real Techniques Stippling Brush, I decided to add more to my collection. I had heard amazing things about the Buffing Brush, so was excited to buy these in Boots. This costs £21.99, which is amazing value as you get four brushes and the case it comes with - which doubles as a brush stand! I have been trying these brushes for a few days now and these are my thoughts on them;
1. Buffing Brush - This is the Holy Grail of foundation brushes. It is so impressive that I actually enjoy putting my foundation on much more than before. It feels so soft against your skin and is one of the nicest blending brushes I've ever come across. I would pay £21.99 for this brush ALONE! You really need to get this if you havnt already, you will not be disappointed.
2. Detailer Brush - This is now the smallest brush I own and is great for adding little details to your makeup look. I've been using this to add a light shade into my tear duct area and this makes the application so so precise. I've also used this under the eyes to add eyeshadow and even to add a highlighter to the bridge of the nose and cupids bow. This is a lovely little brush.
3. Contour Brush - As the name suggests, this one is for contouring under the cheekbones and jawline. I'm not a huge fan of contouring as I've yet to get a shade that matches my super pale skin, so I've been using this to add my blusher. Works a treat.
4. Pointed Foundation Brush - I'm sad to say that this one is kind of disappointing. It feels very flimsy and not at all like the others. It doesn't glide across the skin like the others do and just feels a bit cheap, if I'm honest! I think it's a bit small for a foundation brush to begin with but it is designed for applying foundation in particular to more tricky areas, such as around the nose and under eyes. It just doesn't do it for me. Disappointing. Hopefully, they will re-release it in much better quality.
5. Panoramic Case - This works in two ways, one as a carrier and the other as a brush stand. I really like this idea, it is quite gimmicky but it is super handy. Nice touch to the collection.
Overall, the
Buffing Brush
is just to die for and would urgently tell you all to get your own. Absolutely fantastic quality for a brush. I do like the gold colour of the brush handles also, they stand out again my other brushes and look very sleek and stylish. The girls from
Pixiwoo
have done themselves proud with these brushes and I like how they've kept them inexpensive so everyone can afford them. I have my eye on the other set now as well! You can also find video makeup tutorials of the girls using just the
Real Techniques
brushes on their other
YouTube
channel,
here
.