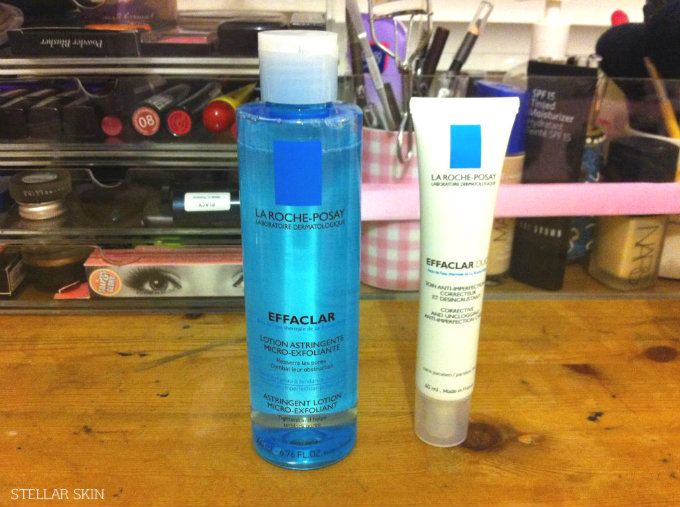 I really feel that looking after my skin is much more of an adventure than trying new makeup. For what is the point in spending hundreds on a fantastic array of cosmetics if you don't have an even, flawless complexion to apply it onto?
As most of my followers now know, I've recently been battling bad acne and, thankfully, I defiantly am winning the war! I have been changing up my skincare routine around every 6-8 weeks as I feel there is still more for me to discover with regards to great treatment lotions. The latest for me is the now infamous Effaclar Duo moisturiser by La Roche-Posay. I had first heard bout this from the lovely Ruth at her A Model Recommends website; she had been raving about this super skincare product which she had used to bring her skin back to the best possible condition it could be. Once she recommended it, many other beauty gurus also went out and purchased this supposed genius of a moisturiser - all of them loved it.
I thought I might as well get in on the action as this is relatively affordable - around £12. I had a look at the other products from the Effaclar line and decided to also get their toner, Effaclar Lotion Astringente Micro-Exfoliant. I had been using my Lush spray toner - the Tea Tree Oil one - and to be honest, I didn't see much of a difference in my skin. It was an ok product but I doubt I would buy it again, although it did seem to help my moisturiser sink in a bit quicker.
Anyway, onto the Effaclar. Firstly, I need to comment on one thing - the smell. I really don't like the smell of this, it reminds me of some sort of antibiotic cream you would get from the doctors, so that was a major disappointment. The first night I used the moisturiser on its own without the toner just to see roughly how strong/effective it would be (I didn't want to overly strip my skin of oils). This does feel very lightweight and sinks in super quick. I did my usual evening double cleanse before adding this and it did sting quite a bit but I soldiered through and by the morning time, my skin did look quite nice and plumped up. However, after I used this again in the morning, it seemed to make my skin far too dry and when I went to apply makeup, it started to cake instantly. I had heard the other beauty bloggers say they use this morning and night but no way can my skin handle it. By day 3 my skin started to flake off, so I decided to change the course of action. I then mixed the Effaclar Duo with my usual Clean & Clear Dual Action Moisturiser and that has defiantly helped with the drying. I have now started to incorporate the toner into my evening skincare routine. I feel this is also quite a strong product but if I only use it once in the evening, it does give my skin an extra bit if micro-exfolliation which does seem to be helping unblock my pores (they are a BITCH to clean out!).
I have been using this system now for a few weeks and if I'm honest, I really don't know what all the hype is about! My skin just doesn't seem to want to work alongside this brand and I'm really disappointed it hasn't been the saviour I thought it would be. It isn't completely awful but at the same time it hasn't improved my skin much at all. I really think I'm going to just go back onto my old Dermalogica skincare routine which I did when I was younger - I might as well give it a shot.
I'm going to add a rating to all of my reviews on future blog posts.
EFFACLAR DUO MOISTURISER - 6.5/10
EFFACLAR LOTION ASTRINGENTE MICRO-EXFOLIANT - 6/10