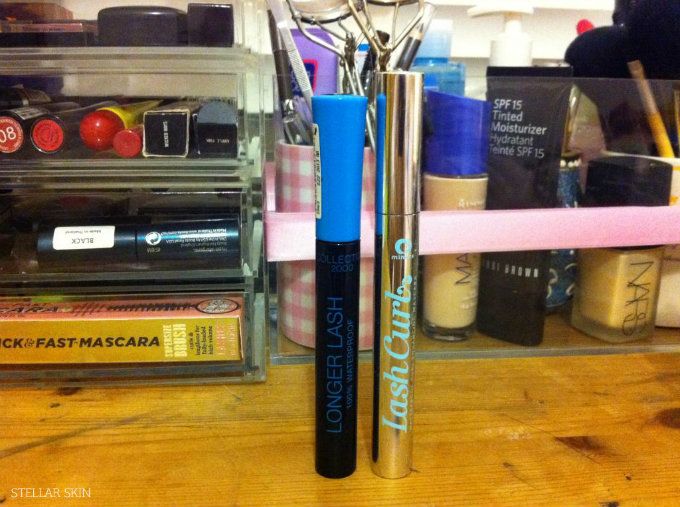 A girl can never have too many mascaras. That's a fact! And my collection is slowly increasing into a humongous pile which is enough to last me 5 years (well, that would be if they didn't dry out after 4 months!). These are the latest;
1. 'Collection' Longer Lash Waterproof Mascara in 3 Brown/Black - This is another PoundShop purchase and for a quid it really is a bargain. ***I've been trying to use more and more waterproof mascara's as I've recently learned that they have a different formula - a formula which actually keeps the curl in your lash rather than work against it like normal mascaras do! Something about water-based versus oil-based I think. This is something which is like a god send for me as I've been quite frustrated when I curl my lashes and then they just fall back into place when I add mascara but, by switching to waterproof really has helped a lot! It's one of my new favourite beauty tips so pass on the word!
This 'Collection' mascara is pretty good but isn't as 'wet' as my other ones. By "wet" I mean it doesn't seem to have much liquid on the wand once you take it out of the tube and usually my other mascaras have too much! I really like the shape of the wand - it's a classic and works the best for an everyday, natural effect makeup look.
2. Miners Lash Curl Waterproof Curl Enhancing Mascara in 02K - I had never heard of this brand before and found this in the sale section of my local pharmacy for £2. I think the packaging looks very nice and sleek and the wand of the mascara is in a curved shape. I don't believe that mascara can actually curl your lashes - thats what Shu Uemura is for - however when I tried this I was pleasantly surprised. I have been trying out more brown mascaras now than black and this one suits me pretty well. Like the other one this isn't very wet and that can give me more precision when applying as it is then buildable.