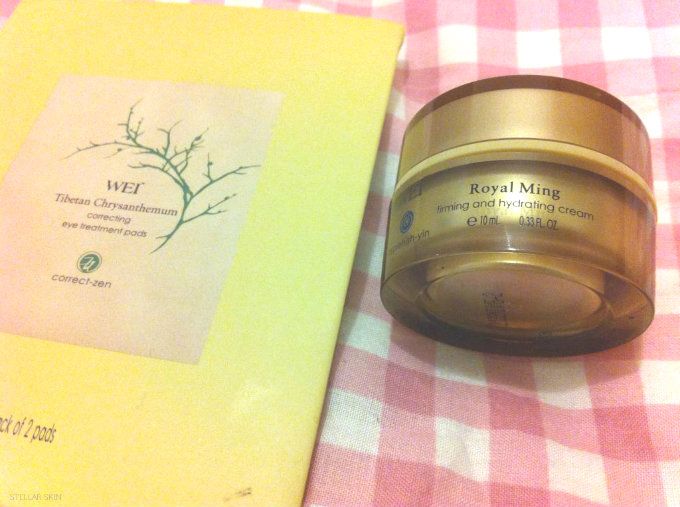 It was my birthday a few days ago and as I was going through my emails, I came across one from Space.NK wishing me a Happy Birthday, which I thought was cute enough. Then when I opened said email I had a notice telling me that they would give me a free gift if I print out the email and take it to my local store. I don't think this has happened with any other company before, so I was so excited and made my way to Space.NK. When I arrived the lovely sales girls took my print of the email and quickly put my gift in a wrapped little box and I was on my way. When I got home and looked at the presents I was really happy,
1. WEI Royal Ming Firming and Hydrating Cream
- Online at Space.NK the price for a full size of this costs £74! The website states;
"A rich and luxurious cream formulated with no less than 18 potent herbs that combine to deliver balance and a smooth, youthful luminosity to dry, ageing and lined skin. Dating back 600 years, women of the Royal Ming Dynasty used this herbal remedy to help maintain their silky, porcelain-like complexions. Today, its all-in-one formula firms and intensely hydrates with its restorative blend of active botanicals."
I have pretty high hopes for this little thing and I will defiantly use it sparingly!
2. WEI Tibetan Chrysanthemum Correcting Eye Treatment Pads
- Online this retails at £46. These are like the luxurious version of putting cucumber over your eyes to reduce redness, puffiness and give moisture;
"

The perfect antidote to a late night or hectic lifestyle - one application of these extract-rich correcting eye treatment pads diminishes puffy eyes and dark circles. After just ten minutes eyes look noticeably fresher and brighter, and ready to face the world."
I will save these for a special occasion, for when I'm looking to give my eyes the Royal Treatment - so to speak!
Overall, I'm so happy at these gifts. It really made my birthday extra special and I think it's a fabulous PR/marketing move for a company - as I did end up buying a little something else from the store that day. More places should have this concept!