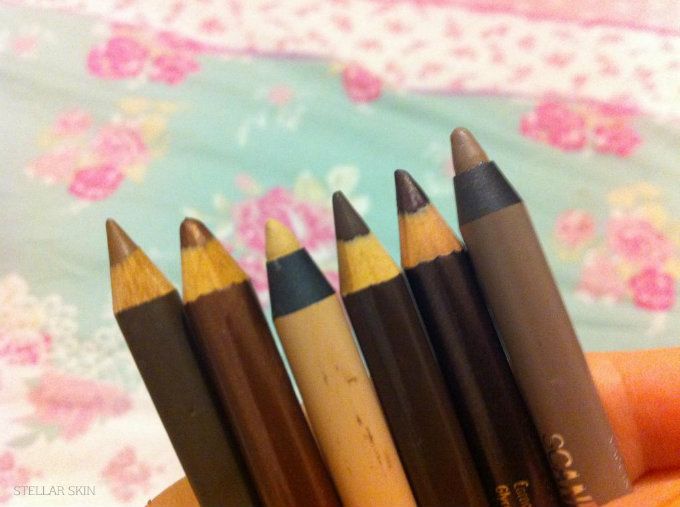 When trying to create a nice daytime makeup look, I've found that using black eyeliner is just a bit too much for me. Now I've begun a never-ending haul for the perfect brown eyeliner pencil; I'm particularly looking out for a pale brown shade but as yet I've still not found "The One". This is a few eyeliners I've come across which are pretty good quality and affordable (all under the £5 mark)*;
1. Rimmel Scandaleyes Waterproof Kohl Eyeliner in 004 Taupe and 005 Nude
- My favourites! I purchased these online and had never previously sampled them. These have received a lot of praise in the beauty-blogging world and I can understand why. They are just as much good quality as some of the high end brands; They are creamy, they glide on like a dream and they will not budge all day. The
Taupe
is a rather strange mid-tone grey colour which is different for me but it works nicely with a smokey eye, whilst the
Nude
is a standard nude colour which brightens up the eye area (good for this time of year as I have quite red eyes). Highly recommended.
2. Accessorize Eyeliner in Shade 6 Dark Chocolate
- The shade name says it all, it does resemble a rich, dark chocolate tone. This is the first Accessorize makeup product I've ever purchased and I haven't heard much online about these so I didn't know what to expect. Thankfully, like the Rimmel ones, these are very creamy which makes application very easy however these are not waterproof so you may need to touch up during the day. The best thing about this is that it comes with a smudging brush on the other end of the pencil which is a great detail. Even if I don't use the colour I will always have the smudge-end close to hand.
3. Rimmel Soft Kohl Eye Liner Pencil in 011 Sable Brown
- Yet another Rimmel product - it's clear to see I'm loving the brand at the minute and think their line is amazing.This pencil is much darker than it looked online so that was disappointing however, I know I will find good use for this somehow. It's not as creamy as the Scandaleyes but a nice pencil overall.
4. Barry M Kohl Pencil in 28 Bronze
- I'm really starting to fall in love with Barry M products, I used to think the brand was more suited to teens and so never really payed it much attention. How wrong was I! The amount of colour ranges this brand have is brilliant, it's one of the most diverse array of shades by a drugstore brand and they are so inexpensive. This is a good liner which doesn't smudge.
5. NYC Kohl Brow/Eyeliner Pencil in 927 Taupe
- I find it funny to see what different brands regard 'Taupe' as being! This is a medium-toned brown liner which comes in a very, very long pencil. This will last me for a very long time which makes it the best value out of all my liners. It is a tiny bit scratchy though, so for very sensitive eyes this may not be for you. I've been using it and have found it to be fine. A nice product.
*If any of you have any suggestions for a nice pale brown eyeliner then please comment and let me know! I've started branching out into gold colour liners now and will do a post about them soon.