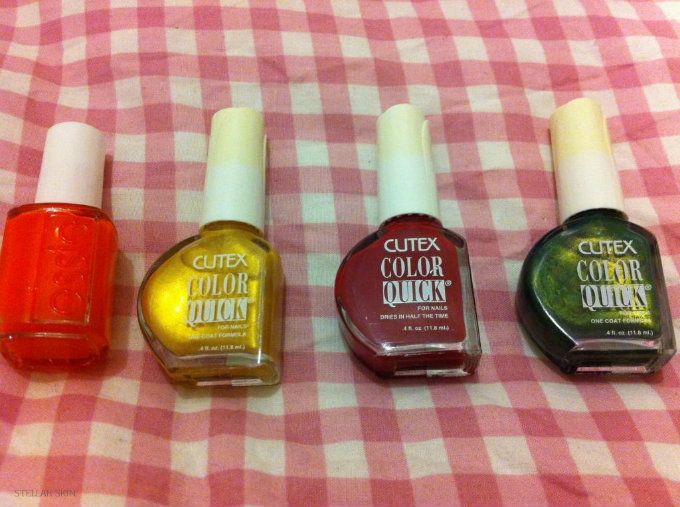 I feel as though I've been going a little overboard with purchasing nail varnishes recently. My collection seems to have tripled in a few short weeks. These are the latest;
1. ESSIE Nail Varnish in Orange, It's Obvious
- My first Essie nail varnish! Yay! I got this along with the other hugely-discounted products from cheapsmells.com. I have heard so much about these from other beauty bloggers and was so pleased to buy my first one in such a vibrant colour. This is as orange as you can get, it's very vibrant and dramatic yet looks so good on my nails. The consistency of this polish is brilliant, you only need one coat to get full impact, so that tells me it's very highly pigmented. The brush is verging on the thick side, which is my favourite brush style. Overall, I can see why people rave about these. I think this is only the start of my Essie love affair.
2. Cutex Colour Quick Nail Polish in 77 Gold Stripes
- I got these Cutex polishes from my local charity shop, they had a bunch donated to them and they were priced at 99p each. This was the first colour that got my attention, it's a nice, bright yellow with some gold undertones which is very uplifting and fresh. Yellow reminds me of summertime and so this colour just brightens up my whole look. The brushes on these are long and thin which will give you more precision if you are not the best at applying varnish. I used about 2-3 coats of this to get the full colour.
3. Cutex Colour Quick Nail Polish in Cool Crimson 37
- A deep, musky red colour, this polish is perfect for christmas time. These polishes also dry very quickly. Great if you are in a hurry.
4. Cutex Colour Quick Nail Polish in Camouflage 78
- A great christmas tree green colour which is very unique and perfect for this season. This also has some shimmer which catches the light wonderfully.